DOLCE VITA - NEW ALBUM
Help us fund it!
(click below)
Next concert
Espace Vasarely
4th March 2017 at 8:00PM

2016/17 Project:
DOLCE VITA
La strada (Nino Rota)

Les formats *.mp3 et *.ogg ne sont pas pris en charge par votre navigateur

Arrangé par Claudio Pallaro

Amarcord (Nino Rota)

Les formats *.mp3 et *.ogg ne sont pas pris en charge par votre navigateur

Arrangé par Gary Brunton

Recorded on 11th and 21st december 2015
All aboard "La Dolce Vita" - our fabulous new rollercoaster ride to Italy. Paying tribute to the pan-european roots woven through Peebee, Italian born founder member Claudio Pallaro (saxes) has teamed up with Frenchman David Patrois (vibes) to launch this dynamic new project.
Steering the bigband skillfully through a surreal hommage to all things Italian, La Dolce Vita showcases a vibrant mix of new arrangements of themes taken from opera and cinema, as well as Italian pop and folk music. Original compositions from Gary Brunton (double bass) Claudio Pallaro, Gilles Relisieux (trumpet) and Frédéric Loiseau (guitar) complete the sumptuous Fellini-esque voyage.
As Italian as fine wine and pasta, as kooky and stylish as only Peebee can be.
Download the DOLCE VITA brochure (in french)
The story so far
Towards the end of 2007, Claudio Pallaro and Gary Brunton launched an invitation to thirty or so musicians from the Paris area to meet up weekly in order to exchange musical ideas and to create new music collectively.
The jazz workshop quickly became known as The P B (the band leader's initials) and collaborated in performances with other forms of artistic expression: dansers, painters, actors and slam poets.

Podcast on Jazz à Fip the 11/8/14 "El Duende"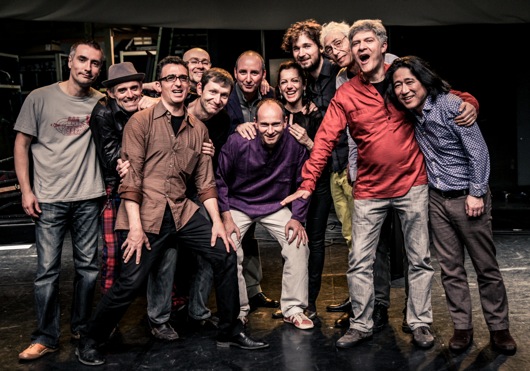 Sponsors